Online Cooperative Software
Introduction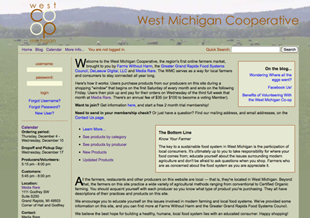 Beginning in January of 2009, DeLeeuw Digital will be offering service and support of our open-source, GNU GPLv2 Licensed Online Cooperative Software. The software itself is free of charge, and can be modified and adapted to a variety of cooperative setups.
Software Capabilities
User Account Management
Producer / Provider Management
Invoice Printing and Tracking
Order Cycle Statistics
Page Templates
Themed Designs
Our Services
DeLeeuw Digital prides itself in quality service and support. We designed and built the Cooperative Software from the ground up, so we are the best to help your organization - however small or large - get started with an online marketplace for local goods.
We will provide:
Software Setup
Software Skinning or Themeing
Training for your Staff, Volunteers, and Producers
Web Hosting
Continuing Updates and Technical Support
Coop History
Starting in December of 2006, DeLeeuw Digital teamed up with Farms Without Harm, the Greater Grand Rapids Food Systems Council, and Media Rare to start the West Michigan Cooperative. It started small, with a handful of members, but quickly grew in size - outgrowing the local grocery store's back room, and moving into the Media Rare location.
With that growth came demand for additional features and workflow improvements. We believe that our system has been well honed. With our December, 2008 order cycle coming to a close, this software has powered a marketplace that resulted in over $100,000 worth of sales — all going to local farmers and product producers.
Interested?
We can help you start a local cooperative of your own. We can help your existing farmers' market get online. Contact us! Email us or call 616-723-4946.